Plastira Lake
A few words about Lake Plastiras in Neochori Karditsa ...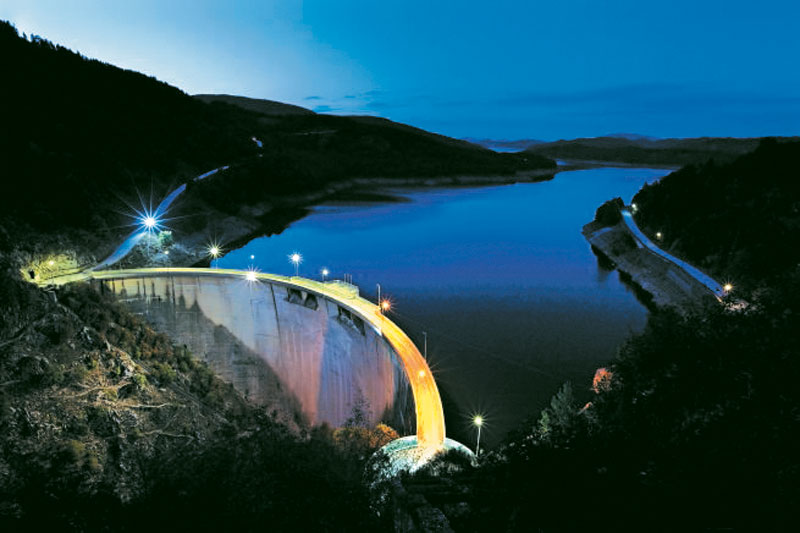 The famous area of Lake Plastiras, which is known as the four seasons' Lake, lies within the prefecture of Karditsa. In fact, it is called Lake Plastiras Nikolaos - a name born by the former Prime Minister of Greece Nikolaos Plastiras - located 30 km west of Karditsa. The lake is artificial and was created after the construction of the dam, an imposing edifice, sweeping around in a huge arc shape of 83 m height and a length of 200 m. The dam was completed in 1959 in Kakavakia position at the exit from the plateau of Nevropolis River Megdovas (Tavropos), constituting one of the largest artificial lakes in our country. The interest thing about the region lies in the synthesis of elements derived from the mountain culture and of Thessaly plain as well.
Lake Plastiras is a central feature in the area of the mountain range of Agrafa. It does not comprise a treasure for Karditsa only but for all of Greece (as well). All the villages in the vicinity of the Lake such as/like Mesenikolas, Morfovouni, Kalyvia Pezoulas, Neraida, Belokomitis, Kastania Lampero and many others, are truly extraordinary.
A lush countryside vegetation of oak and chestnut trees along with plenty of water sources surround the enchanting and beautiful Lake Plastiras, which characterized as/forms an ideal destination for those seeking either romance, relaxation or those wishing to experience (moments of) intense activities.
The Lake develops an extraordinarily beautiful scenery all year long and is recommended/suitable even for more specific types of visitors/people as for example those interested in alternative tourism, athletes, hikers and not only, since it offers a wide range/there is a great availability of different activities such as horse riding, mountain biking, rafting, hiking etc.
Suffice it to mention the area became the official cycling training center, of the Greek Nation Team, for the Olympic Games of 2004. The varying routes near the lake, promise to offer exciting experiences.
Wild boars, deer, wolves and foxes live in the region's forests. Nevropolis name comes from the ancient word/noun ''nevros'' which means small deer and reveals that these too once lived in this area. In the lake waters one can find trout, crayfish, eels, carp and many other kinds as well. Fishing is limited and falls under the protection of the Hellenic Ministry of Rural Development and Food. There are however two lake farms for guests wishing to buy fish from the Lake. Lastly, the region witnesses an agricultural (activities) growth like wheat, vegetables and potatoes planting while others engage in viticulture and beekeeping.
The villages within the region of Agrafa organize a great sum of cultural events and activities throughout the year, each one entailing its unique beauty and interest.